Best Wireless Bluetooth Headphones
Most of us want to have the happiness of freedom, enjoy our life independently. But when we are talking about Headphones, then being free is come to the point through Wireless Headphones. Using Wired Headphones is like the prisoner with chain. So, let's taste the life of freedom by getting rid of cable, by having the fun of Wireless Bluetooth Headphones.
Through lots of hard-working, huge research, we have here chosen 5 Best Wireless headphones. These best Bluetooth and NFC pairing headphones are Amazon headphones with the mic as well. There are many factors that kept our mind when we chose these best Bluetooth over-ear headphones on Amazon. Generally, wireless headphones are costly. Thing is, tasting the taste of freedom is pricey. But don't worry; we have also under $50 which is number 4 and under $100 which is number 5 according to our serial. If you are more interested to know what are the Best DJ Headphones Under $100 Bucks 2017 and the Top 5 Best Dj Headphones Under $200 Bucks 2017, you are welcome.
So, let's have a look what the Best Wireless Bluetooth Headphones are:
Noise Cancellation: This Bose QuietComfort 35 Headphones have undoubtedly the world-class noise cancellation. These Headphones let the quiet sound quieter as well as music sound better. You can use these headphones as in crowdy environment in DJ show, like that in the windy environment as well, with clear calls for its noise-rejecting dual-microphone system.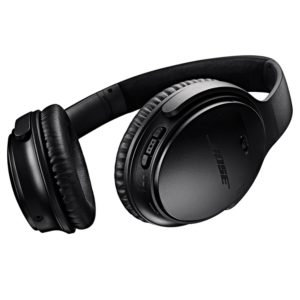 Comfort: Bose QuietComfort Headphones designed particularly for comfortable using. Among those, these Bose QuietComfort 35 Wireless Headphones are the best according to our research.
Bluetooth and NFC pairing: These headphones have wireless convenience with of course easy Bluetooth and NFC or Near Field Communication pairing, additionally aided by voice prompts for your using a bit easier. If you are confused about NFC, I can say, in short, it makes connecting experience between your headphone and device easier without a major battery source as well as with a much shorter range.
Pros:
Lose the noise and wire
World Class noise cancellation
Volume-Optimized EQ
Bluetooth and NFC pairing
Premium materials designed for comfort
Up to 20 hours of battery life
Cons:
PPS12 technology: This technology offers you 12 drivers all together in a headphone!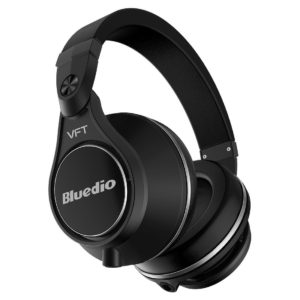 This is absolutely for making your experience more fantastic with Bluedio Bluetooth Headphones U Plus (UFO). With this amazing technology, you feel like the music surrounded you with all its frequency.
Cavity Design: Cavity Design is a unique design for a good headphone. It helps to cancel the surrounding sound and increase the bass.
Long lasting: Premium materials are used to make this wonderful headphone. This headphone is robust, no chance of broken. This absolute feature makes it worthy for the best wireless Bluetooth headphones.
Pros
A wireless headphone that can help you to move freely
Extra bass is ensured by PPS12 technology and its cavity design
Using PPS12 technology with 12 drivers in which three drivers are for trembles and another three are for mids and bass
Excellent noise isolation for its nice cavity design
Cons
Provided cord quality is comparatively low
A little uncomfortable for those who have not exact round head
Quality Sound: These headphones offer you a powerful, pure and soft Bang & Olufsen Signature Sound.
When you use this B&O PLAY by Bang & Olufsen Beoplay H4 Wireless Headphones, you will find a fine-tuned sound by equalizers in the Bluetooth 4.2 chip. Along with DJ purposes, you can also use for going for a walk as it gives you 19 hours of playtime per charge.
Honest Materials: All the materials are carefully selected for comfortable using, awesome styling and fitting. The headband is made with Soft lambskin leather. Ear cushions are made with memory foam. Stainless steel sliders and durable braided textiles over the cords ensure these headphones deliver on utilizing honest, simple and true materials.
Pure Design:  Clean lines and minimalist construction for a sleek finish are used to design B&O PLAY by Bang & Olufsen Beoplay H4 Wireless Headphones. These Headphones look as good as these sounds. These are contemporary and with an emphasis on simplicity. You can use these anywhere with anything.
Pros:
Up to 19 hours of battery life with Bluetooth.
Bluetooth 4.2; AAC codec 10m operating range; remembers the last 8 paired devices (connects to one)
Premium durable materials with Bang & Olufsen Signature Sound
Designed with clean lines, minimalist expression and a focus on the pure essentials
Cons:
Getting hot sometimes
Costly
Stay Comfortable: Mpow Bluetooth Headphones ensure that you can stay comfortable with it's the Memory-protein ear cushion that does like human skin texture.
These headphones can fit you with its stainless steel slider and softly padded headband and also deliver excellent durability.
Never disconnected, both wireless and wired:  A built-in 420mAh battery ensures you never to be disconnected, up to 13-hr music time while talking time is 15-hr in a single charge. You can use as wired headphone too. These will afford you an audio cable so that the headphones will never power off.
Fordable design: The provided headband is foldable. This can be used not only for carrying into the provided bag but also for saving your desk space.
Pros:
Hand free call and a built-in microphone
The ultimate goal of Mpow Bluetooth Headphones is the marvelous sound quality
The foldable headband that saves your desk as well as helps to carry bag.
Built-in 420mAh battery
Up to 13-hr music, time/15-hr talking time in a single charge
Low price
5 colors
Cons:
Passive noise isolating system that cannot cancel the noise completely
These can be a little tight, depending on your head/ear size/shape.
Active Noise Cancelling: When you are in a DJ show, the crowd will not allow you to listen to music except you have Active Noise Cancelling (ANC) technology. Besides, airplane cabin noise, city traffic or a busy office can interrupt you enjoying music unless your headphones are with ANC.
COWIN E7 Active Noise Cancelling Bluetooth Headphones have this technology for enjoying your music, movies, and videos. These headphones offer you to experience this facility both in wire and wireless mode.
Deep Bass: There are 40mm large-aperture drivers that guarantee you a deep and accurate bass response. These headphones make you're enjoying music better as COWIN allow you crisp, powerful sound.
90° swiveling earcups: There is a professional need for 90° swiveling earcups. And it is present in COWIN E7 Active Noise Cancelling Bluetooth Headphones. It is also helpful for general uses like when you need to travel.
Pros:
Active Noise Cancelling
Bluetooth Headphones with Microphone
Hi-Fi
Deep Bass
Comfortable Protein Earpads
30 Hours Playtime with a built-in 600mAh battery
Affordable price
providing quick response and friendly customer service
Cons:
Sometimes you feel disturbed by its noise canceling system
Final Verdict
In conclusion, we can say, these are the best wireless Bluetooth headphones you are looking for. If you are not ready to compromise with comfort, better Bluetooth and NFC pairing and of course noise canceling headphones with bose, Bose QC35 Headphone is for you.
While if you are looking for cheap noise canceling headphones, if you have a problem with the budget, it's no problem. You just get the COWIN E7 ANC Headphones, and you will have the expectation what you have. The robust and long lasting headphones are favorite for most of the music loving people and professionals. If you are one of them, then Bluedio U Plus (UFO) is yours. Beoplay H4 Headphones has pure sound, pure materials, and pure expression. And at last but not the least, Mpow Bluetooth Headphones have almost all the facilities with extremely low price.