Best Affordable Studio Headphones
Buying the best affordable studio headphones could be a complex thing considering the options you get in today's market. There are so many studio headphones out there at a different price range that can create confusion for you. So we have created this list to find you the best affordable studio headphones at your preferred price and performance you want.
A headphone is a must if you want to work at a studio. It is simply because you need to get the best sound experience for working at the studio and the best affordable studio headphones give exactly that. Different studio headphones provide different facilities. So you need to choose a headphone which is perfect for your work purpose. 
There is no perfect headphone in the world. All you need to look at is your taste and budget before buying studio headphones. So this list will help you to find the best affordable studio headphone that is suitable for your studio work. We have separated the headphones into three categories best affordable studio headphones under $100, best affordable studio headphones under $200, and best affordable studio headphones under $500.
Best Affordable Studio Headphones Under $100:
Audio Technica M40x
The first headphone on our list under $100 is this masterclass from Audio Technica. Audio Technica M40x gives some great facilities and features which very few headphones could provide under $100.
Introduction:
It is a great high professional headphone which is best at working in studios and probably one of the best affordable studio headphones. It also comes with a cutting edge engineering technology. Detachable cables are included in the box too. There is a 40 mm driver with rare earth magnets and copper-clad aluminum wire voice calls. M40x Model has a very professional looking as well as felling ear pads that will fit your ear. It gives extreme comfort to your ears. 
First Look:
It has a stronger headband changing mechanism so that you can change according to your head size. It's a very professional looking and glossy finish too. The physical quality of these pairs of headphones is not bad at all. The frequency response of Audio Technica M40x is incredible. They can take a massive amount of sub-bass too. High ends and mid ends are pretty decent to hear too. 
Sound:
It has good sound isolation. It is not ideally made to isolate sound but it will do that work up to that range to make sound more clearing. Its sound quality is one of its important features. You can use this headphone for listening to any type of song. The cables you get in the box is very strong. It seems quite impossible to break it. So you don't need to worry about wasting any extra money on cables. 
Durability:
But it has an issue regarding plastic joints. It can break easily if you apply some pressure on it as its joints are mainly plastics. But using it in studios I don't think plastic joints will break that easily. 
Pros
Provides an extreme comfort, probably the best under $100

Good noise isolation

Superb bass and sub-bass
Cons
It has plastic joint which can break easily
There are many features which make it very interesting to buy at this price. It is a very good headphone for studios. So this headphone worths a shout for sure. 
Sony MDR 7506
Sony is one of the best brands in terms of making headphones. The problem with them is most of their headphones are expensive. But this headphone is an exception to that category.
Introduction:
Sony MDR 7506 is a professional large-diaphragm headphone at a low price. MDR 7506 has neodymium magnets and a 40 mm driver for a better and detailed quality sound. It's a closed-ear design which gives more comfort and reduces more external noise.
Build quality:
Sony MDR is a good option for traveling too as has a folding capacity for extra storage and traveling. It also provides a soft case which you can use for its protection. It doesn't have any issue regarding build in quality or physical condition. 
Sound:
The sound produced from this headphone is almost perfect. If you have tried other headphones like Cowin 7 Pro, Kokoon noise-canceling headphones you will feel an immediate change in its sound quality. Under $100 it might give the best sound quality. Its sound performance gets a solid ten out of ten ratings. 
Bass and tonal:
It has not a very high bass but it has solid bass which is good for mild users. It has okay performance in tonal balance too. You will hear the sounds exactly as it is in the main audio file. Unlike other headphones, it doesn't change its sound quality or vocals. 
Frequency:
The frequency response of this SONY MDR 7506 is incredible. The sound details provided by this headphone is very good. These headphones have good feedback too.
Again the issue with it is its build quality. It might not last long if you don't take proper care. So you have to keep it in a case while traveling. You can't use it very roughly.
Pros
Gives and amazing sound performance

Probably the best headphone under $100 in producing sounds

Great frequency response

Give slight noise isolation for more detailed sound
Cons
Might break easily if proper care not taken
You are getting a comfortable and strong headphone with good quality sound. So you should try these out.
AKG PRO Audio K240 
The third headphone which we prefer fo professional uses under $100 is this pair of headphones from AKG Pro. They produced some great quality headphones in the last few years and AKG Pro K240 is one of those.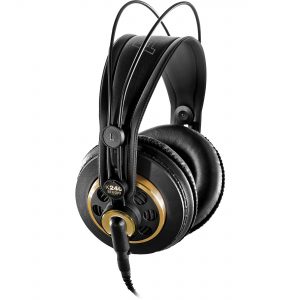 Introduction:
AKG Pro Audio K240 received great customer feedback after it was launched. It is a semi-open over-ear professional studio headphone. It has a 3 m replaceable cable which you can change if any damage is done to it. 
Sound:
As it is a semi-open headphone it has good sound quality. The high ends and mid ends of these headphones sound very beautiful. It has a very pleasing sound which gives a relaxing feeling. 
Look:
It has a quite glossy and fantastic look. Of course, the looks of any headphone are a completely personal choice but we were pretty impressed with its look. If you simply look at them you will feel that these were made for studios specifically. 
Comfort:
Apart from that, it has good comfort too. Most of the semi-open headphones are comfortable. It is also one of them which will give you good comfort. In studios, if you need to work for hours you can wear AKG Pro K240 for a long time. The problem with them is that they have a sound leakage problem. It can be quite irritating at times. They don't have good sounding sub-bass too.
Pros
Good at sound performance

Looks very glossy and professional

Comfortable to wear for long hours
Cons
It has sound leakage issue
Sub-bass is not good
Overall these headphones are specifically made for the studio. So you can try them out for the studio. You will have a good performance. 
Audio Technica M20x
Audio Technica is one of the best brands to provide good headphones at a budget-friendly price. We have talked about Audio Technica M40x earlier but this Audio Technica M20x also great studio headphones under $100.
Introduction:
Audio Technica M20x is the previous version of M40x but it has good performance and that's why we put this M20x in this list too. Audio Technica M20x is a professional studio monitor headphone which mainly comes in black. It has the advanced build quality and engineer which is specially made for studio tracking and mixing. 
It is said that Audio Technica M20x is the best studio mixing headphones available in the market at a budget-friendly price. So you can tell that it is specially designed and made for studio and professional works. 
Sound:
The most important and strong feature of this headphone is it has a great audio quality. Its technology is specially built in a way that is very much suitable for the studio. You can understand its professional sound if you buy them and use them at the studio. It has a rich warm and overall balance sound at different ranges. Its build quality is very impressive. It's very much well made. 
Comfort:
M20x has good seal around-ear cups which feel very good while you wear it. Audio Technica has a good comfortable finish and soft ear cups. It is very easy to adjust size too. It won't matter what your head size is you can easily adjust it. But the problem is that the instruction that is given in the box is quite confusing. It won't bother everyone but for beginners, it could be an issue. 
Pros
Made especially for professional and studio work

Feels nice and comfortable, earcups are soft too

Very much adjustable to your preferred size

Well balanced sound
Cons
No clear instructions in the box, which could be an issue for begineers
You will be attracted by this headphone once you buy it and use it. So it is a highly recommended headphone at a budget range for the studio.  Now if you have a bigger budget than that you will get some good studio headphones too. Here is our list of best studio headphones under $200
Best Affordable Studio Headphones Under $200:
Sennheiser HD 25 plus:
The first headphone on our list under $200 is from Sennheiser. Sennheiser has a great reputation in the headphone market and produced some great headphones for gaming, studios and other purposes. We feel that this is the best affordable studio headphones under $200
Introduction:
This headphone is a great pair of headphones for studios. The 25 series of Sennheiser has some incredible feedback and this headphone has that same kind of high review. They have a very premium look and glossy finish.
Sound: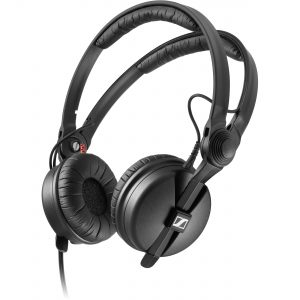 First of all the best thing, this headphone provides is its flawless sound. You are getting the most classy and premium sound under $200. They have good noise isolation too. As a result, it gives better sound and better sound performance. 
Look:
Its design and construction are very good. You will really like its premium look. It shines a bit when light or sparkles fall on it. Overall you will love its design. It gives good comfort too. It has big and soft ear cups. Ear cups mainly give comfort and this headphone does exactly that. Your ear won't get hot or start to sweat if you wear it for long hours. 
Weight:
It is very lightweight too. You can carry it anywhere without having and weight issue. It has a good customization option too. Almost everything in this headphone can be replaced. But the thing it doesn't have the best high ends. Its high ends are quite dull sometimes. Low ends and mid ends are quite okay. 
Pros
The flawless and smooth sound

Glossy design with great construction

Provides good comfort to the user

Very lightweight
Have some good customization option
Cons
High ends are not very good
If you are looking for the best sound performing studio headphone under $200 then this is a product you should invest money on. 
Audio Technica M50x
This is the third Audio Technica headphone on this list. You must be surprised to see these many on this list. But they worth it. They have the best studio headphones in the market. Audio Technica M50x is a professional grade studio monitor headphone at a reasonable price. It is critically acclaimed to be the best studio headphones in 2020. It has a detachable cable that you can replace any time. Its driver is a 45 mm large aperture with rare earth magnets and aluminum clad.
Introduction:
Audio Technica M50x build quality is superb. The headband is made of metal and plastic one the headphone is very sturdy and strong. It won't break easily if you don't intend to break it. 
Comfort:
You won't wear a headphone which isn't comfortable and doesn't feel good no matter how good the sound quality is. This headphone not absolutely comfortable but it's not that bad either. So you will get good comfort from it which you can wear for 5-6 hours.
Sound:
In terms of sound, you will like it. In a simple way, the sound can be described as clean, detailed. Their high and low ends are pretty pleasing to hear. You will like it's sound quality no matter what. The problem with them is its bass. Its bass is not too deep. It gets muddy at times. So the bass is a concern for Audio Technica M50x. They don't have a lot of customization options too. 
Pros
Superb build quality

Good at providing comfort

Simple, clear, detailed sound 

Good low ends
Cons
Bass is very deep and muddy at times
Not too many customization option
You are getting a more clear, detailed sound in this headphone. So you should at least try it out. 
Pioneer HRM 6
Pioneer has not so many high rated headphones. But this Pioneer HRM 6 is a completely amazing piece of headphones. Its HRM series is not that much-hyped but these HRM 6 is superb at studio performance. 
Introduction:
Pioneer HRM 6 is an over-ear professional studio monitor headphones. Although it is not a popular option in today's you won't be disappointed by its performance. It is made of aluminum with several parts made of plastic.
Sound:
The first thing you will notice from this headphone is its sound signature. Its sound performance is well balanced. You won't have complaints around its sound. It gives a solid performance in high ends, mid ends, and low ends.
Comfort:
So many headphones give comfort but not at that highest level. It is a little more comfortable than other headphones because it has thick ear cups. It is very soft and gives comfort.
Look:
Its design is typical studio headphones. Most of the headphones look great but they don't look professional or typical studio headphones. But these pair of headphones look studio type. Bass is a bit concern about its performance. Its bass is very dull. The rock or different type of high energy music doesn't sound too good. 
Pros
Great sound signature

Comfort is very enjoyable

Looks like a studio headphone
If you are looking to try some different brands with good feature then this headphone is the perfect option.
Shure SRH 840
The last headphone on our list under $200 is Shure SRH 840. It has a good demand in the market. It is only because it gives a stable performance at a stable price range. 
Introduction:
This headphone is specially optimized for studio monitoring and also for critical listening. So you can expect good quality performance from it. It is a closed-back headphone. So it has better performance regarding sound. It is circumpolar with a collapsible design.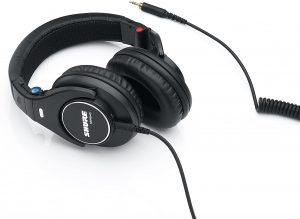 Sound:
This headphone has some great features which you will love. That is why we kept it into our list. This headphone is great at studio mixing. Actually these headphones produce crystal and pure sound. 
Bass:
It has a mild bass and sub-bass. So while hearing it you will notice a difference in sound. Mild bass and sub-bass are not perfect it is very pleasing and relaxing to ears. So while doing studio works you will get a comfortable feeling. 
Comfort:
Its comfort will last for many years. The problem with other headphones is that they seem to lose their comfort after some years of usage. But you won't have that problem with these pairs of headphones. You can wear them for long hours. Your ear might hot after some hours but you can remove it for a few minutes and again wear it for more long sessions.
Build quality:
The products build and durability is an issue. Many people had the issue of breaking it in a year. You need to use it carefully. 
Pros
Crystal clear sound

Good quality bass and sub-bass

Comfort last for many years
This headphone could be your choice if you are looking for more music-friendly studio headphones. If you are looking to buy better headphones than all these and have eager to increase your budget then here are our options. 
Best Affordable Studio Headphones Under $500:
SONY MDR V700: 
Sony products are considered one of the best and when it comes to studio, it is one of the best affordable studio headphones for experts. These don't require any reviews to prove its worth. Sony MDR V700 is one of the best studio headphones you can go out for. Sony studio headphones have a different reputation in the market. Its because they give a great performance. Sony MDR V700 is one of those headphones which you will love by its performance. It is a professional DJ style to monitor headphones for the studios.
Introduction:
These headphones have reversible swivel ear cups specially made for studio and DJs. They also have an auto single-sided monitoring for better performance. It has a huge 50 mm drivers and an excellent dynamic range. It creates a controlled environment for better music. Its deep bass down to 5 Hz too which feels pretty good while listening. 
Sound:
This is a perfect headphone for studio works and editor. If you are a video editor or have something to do with audio then these pair of headphones are your ideal choice. It will increase your quality of work and make it easier with its sound quality. 
Range:
Its dynamic range is quite good. Most of the higher quality headphones provide dynamic ranges but they don't perform well. But in these Sony studio headphones, you are getting a better and well dynamic range. 
Comfort:
Regarding comfort, you will not have any issues. Its ear cups are quite comfortable and soft. They make sure that you can wear it for long hours. Unlike other headphones, your ear won't get hot. Although their sound is quite satisfying, noise isolation is not that great. Their noise isolation could have been better. That won't bother too much as they have a good driver and sound quality. 
Pros
Perfect headphones for studio and editors

Probably it has the best dynamic range

Provides a good comfort for long hours
Cons
Sound isolation could have been better
If you are really looking for a headphone editing and studio then it is your perfect choice.
Shure 1840
Shure has some good quality studio and Shure 1840 is the best among them. It is liked by many professional workers and studio workers. You will love its performance in studios. 
Introduction:
Shure 1840 is a professional open-back headphone that comes mainly in black color. It has an individually matched 40 mm neodymium drivers. It has a circumpolar design for exceptionally neutral sound. Its weight is not too heavy. So while using it you will have no burden on your head issues.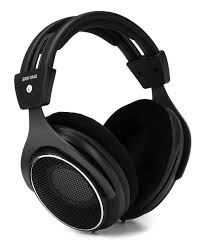 Comfort:
The most beneficial thing you are getting with this headphone is its lightweight.  It gives you more comfort than usual. It is very astonishing that good quality headphones come in these lightweights. The comfort you will get also great. The ear cups are soft. Their headband also has no pinching or any issues like that. Its adjustable size is good. So it will fit any head shape. 
Performance:
You will get a stable performance from Shure 1840. Many headphones have issues of giving stability in performance. But Shure 1840 performs well almost all the time and sounds right in all times of songs.Their high ends have some problems. They feel very mild at times. They also sound like not very neutral in specific conditions. 
Pros
Very lightweight

Comfortable

Stable good performance
Cons
High ends don't sound neutral
You could try these out if you want slightly light and well-performing headphones. 
Sennheiser HD 6 MIX
Introduction:
Sennheiser provides worlds best both over-ear and studio headphones. This product Sennheiser HD6 Mix is that product. It is simply one of the best studio headphones and even over-ear headphones. Sennheiser products are comfy feeling.
Comfort:
These headphones are of extreme comfort. The customers used these are extremely happy with the comfort. They have said that they can wear it for more than 12 hours. We have tried these and they are extremely comfortable.
Noise isolation:
The second thing is their noise isolation. Studio headphones don't give noticeable or good noise isolation. But Sennheiser HD 6  mix gives a great performance in noise isolation. Usually, studios remain quiet and not that much noise but you will completely feel the music. Because of its noise isolation and good comfort you will love these pair of headphones. 
Sound:
Another important thing this headphone has is a detailed sound. Good noise isolation and detailed sound make it one of the best sounding studio headphones. Their high ends, low-end everything sounds great. They don't sound dull like other studio headphones. If you are a stylish type of person who likes classy and stylish headphones, then you may not like it. We personally didn't feel its design to be stylish. It is a personal choice though. You might like it. 
Pros
An extreme level of comfort

Good noise isolation

Detailed sound

Great sound performance
Cons
It's not very stylish but depends on your choice
If you want to give preference to sound mainly then it is your definite choice. Studio works need good quality headphones. You can't simply go out in the market and buy a studio headphone. Before buying it you need to do proper research and buy it.
Final Verdict
You will use it for a long time. So you need to buy what you need and these are the best affordable studio headphones for any DJ. There are many headphones that provide different facilities. So if you need sound go for a headphone which gives better sound, if you want comfort then go with a headphone that has better comfort. In the end, there is no PERFECT HEADPHONE type of thing. If you look carefully then headphones have some disadvantages. The thing you need to look at is what you need for your work. So these are the best affordable studio headphones you can go out and buy in the market. We have also classified it into different price range so that you can buy according to your price range.